Chicken Stuffed Sweet Potato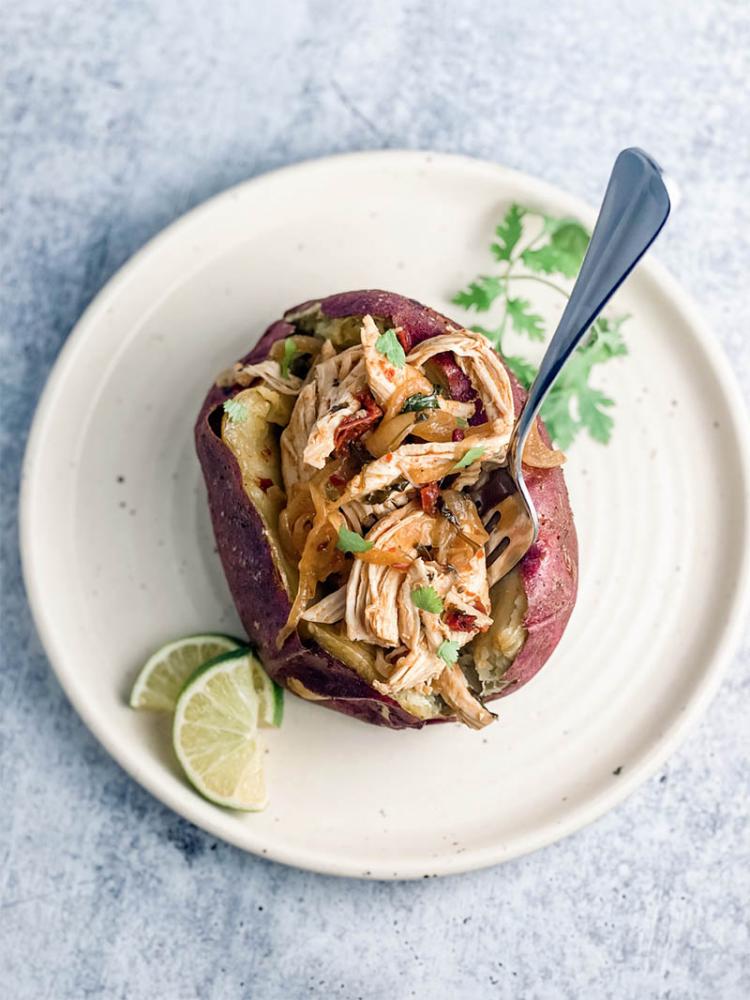 What you need
Servings: 4
4 sweet potatoes
1 tablespoon Coconut Oil OR Butter
1 tablespoon garlic, minced
1 yellow onion, thinly sliced
1 red bell pepper, seeded and sliced into thin strips
1 orange bell pepper, seeded and sliced into thin strips
3 tablespoons minced canned chipotle chile in adobo sauce (or MORE if you like it spicy!)
½ cup orange juice
¾ cup fresh cilantro, chopped
1 tablespoon Worcestershire sauce
1 lb boneless, skinless chicken breast
1 teaspoon yellow mustard
salt and pepper to taste
1 lime, sliced into wedges

Instructions
1. Preheat the oven to 425 degrees F. Line a baking sheet with parchment paper.
2. Rinse and scrub the sweet potatoes. Pat dry with a paper towel and pierce several times with a fork or knife. Place on the baking sheet. Lightly spray the sweet potatoes with olive oil and season with salt and pepper. Bake in the preheated oven for 45 minutes to an hour, until tender when poked.
3. Melt the coconut oil in a 12-inch skillet over medium-high heat. Add garlic, bell peppers, onion and chipotle and cook until soft, about 5 minutes.
4. Add the orange juice to the skillet along with 1/2 cup cilantro and the Worcestershire and bring to a simmer.
5. Add the chicken to the skillet, cover and reduce the heat to medium-low. Cook until the chicken registers 160 degrees, 10 to 15 minutes, flipping the chicken halfway through. Using a slotted spoon, transfer the chicken and veggies to a plate and cover.
6. Increase the heat to medium-high and cook the liquid left in the skillet until reduced to 1/4 cup, about 5 minutes. Off heat, whisk in the mustard. Using 2 forks, shred the chicken and return it and the veggies to the skillet. Add the remaining 1/4 cup cilantro and toss until well combined. Season with salt and pepper to taste.
7. Slice each baked sweet potato down the middle and fill with a heaping spoon of the chipotle chicken. Serve with lime we
dges. Enjoy!
---